Conjura dei Fatos in Fresnidiello
Central Massif – Climbing with guide in Picos de Europa
The spectacular East wall of Fresnidiello is located in the Central Massif of the Picos de Europa National Park and near the small and emblematic Sotres. Its excellent rock quality, easy access and fast approach have made this wall the object of multiple and varied climbing routes in the beautiful enclave of the Asturian Picos de Europa.
A predominant grip on the unbeatable limestone will make for a spectacular and uncompromising day of climbing.
Opened in 1994 by Ana Boto, Alberto Álvarez and Carlos Vazquez.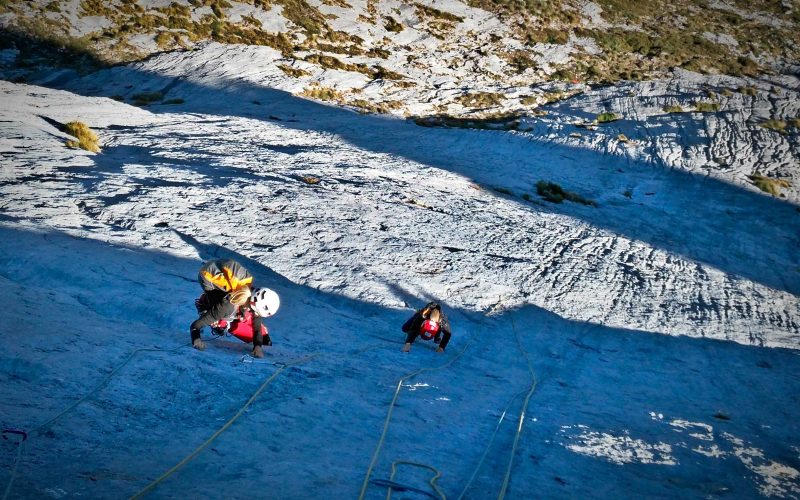 Approach: 60 minutes from the parking lot
Climbing length: 260 m of climbing approx.
Difficulty: Maximum 6a+
Duration of the complete activity: About 4 hours for the climb, one hour of rappel and one hour of return (Total about 6-8 hours).
Descent: Ráppel by the same route
To perform this activity it is necessary to be in good physical condition, to have previously climbed classic climbing routes and to habitually do sport climbing with a grade of 6a as first with fluency. As well as being accustomed to high mountain routes of a minimum duration of 6 hours and 800m of positive difference in altitude.
Equipment required per participant: (Depending on the time of year and weather conditions this information may vary in number and type of clothing and footwear. The guide will inform upon reservation)
Technical trekking boots
Trekking poles
Long elastic mountain pants
Technical short sleeve mountain t-shirt
Technical long sleeve mountain t-shirt
Softshell / primaloft
Down or fiber jacket
Cap
Sunglasses
Medium or light gloves (optional)
Cell phone with charged battery
Headlamp with batteries (important)
Solarcream SPF 50
Mountain backpack 40L
Canteen or water bottle minimum 2L
Refreshments during activity (bars, dried fruits, etc.)
The guide, once the reservation has been made, will inform the participant of the meeting time and place, possibly in the village of Sotres.