Self-rescue training
"Those of us who practise mountaineering activities should be able to keep calm in stressful and risky situations, as well as to resolve possible incidents that may occur during them. That is why we are giving this course, where we will learn multiple resources to be self-sufficient in the face of any possible mishap, always using the means of fortune with the material we have available".
Highly recommended for professionals
Training aimed at people or professionals who wish to acquire the essential techniques of self-rescue, extremely useful if you regularly practice sports such as climbing, canyoning, caving, or professional activities such as:
Work at heights
Firemen
Rescue groups
Climbing walls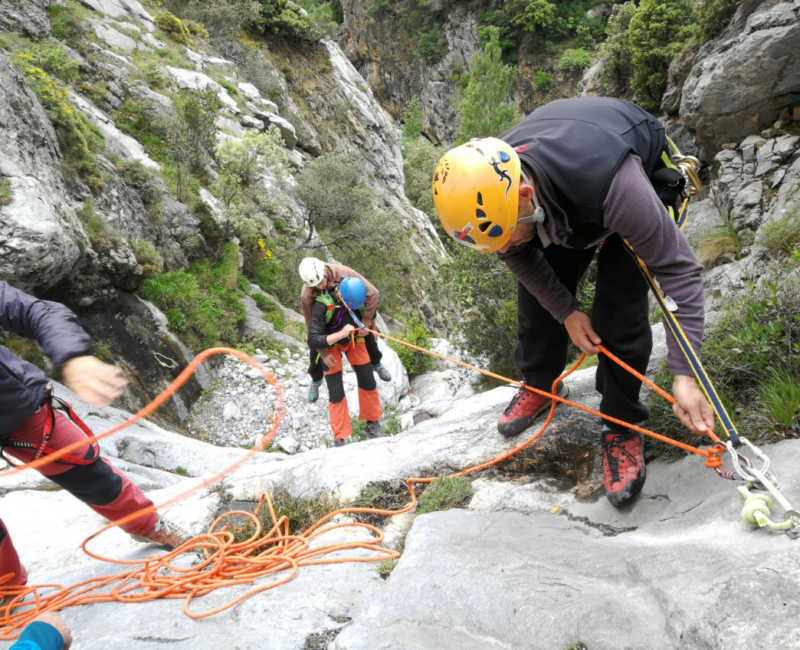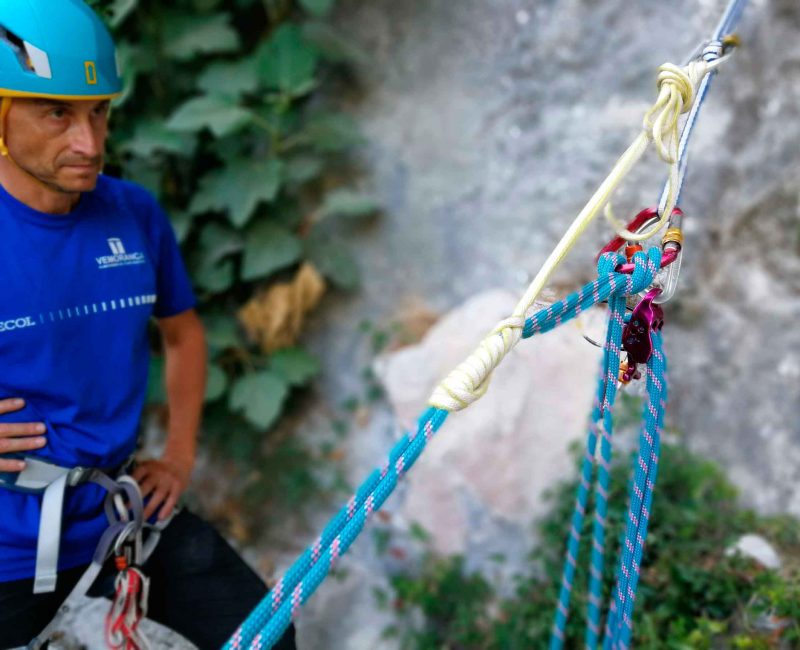 Course contents
REVIEW OF BASIC KNOTS: EIGHT, BALLESTRINQUE AND DYNAMIC WITH LEAKAGE
ASSEMBLY OF MEETING WITH BLOCKADE ON GAZA
METHOD OF PLACEMENT OF THE ROPE ON THE ROPE CLAMPS ON THE MEETING, BELAYING TO A SECOND AND POSITIONING, (ROPE REEVING WITH ROPE ON BALLISTAE)
MACHARD'S PERFORMANCE
RAPPEL ASSEMBLY BY MEANS OF SIMPLE COWTAIL OR CHASED EIGHT
SELF-PROTECTED RAPPEL MANEUVER WITH MACHARD
DOWNHILL-UPHILL CONVERSION WITH REVERSE
MACHARD PULLEY PROCESSING
MACHARD ASCENT BY FIXED ROPE PULLEY
REVERSE SIDE LOCKING TO FREE HANDS
SELF-RESCUE IN A COLLAPSE AS FIRST AND SECOND ROPESMAN
RAPPELLING KNOT PASSAGE
TRANSFER OF REVERSE CHARGES TO DYNAMIC ESCAPEE TO DESCEND A WOUNDED PERSON
One day course
---
8 HOURS
2 People – 100 € per person
3 to 4 People – 80 € per person
5 to 6 People – 60 € per person
Two days course
---
16 HOURS
2 People – 200 € per person
3 to 4 People – 160 € per person
5 to 6 People – 120 € per person
Three days course
---
24 HOURS
2 People – 250 € per person
3 tp 4 People – 200 € per person
5 to 6 People – 150 € per person
There is the possibility of moving to other locations
Frecuently asked questions
All prices shown on this website include: VAT, RC and accident insurance, qualified guide, all the technical material to carry out the activity and photo album.
It is possible to make basic ascents without having climbed before. Even so, the necessary notions to be able to do the activity will be taught.
Example: South Directa al Naranjo de Bulnes
Day 1: Normally the meeting point is at the Vega de Urriellu Shelter the day before the activity, around 19:00 pm. Once introduced, the guide will provide the participant with the necessary material, explain concepts and review the material needed for the activity. During dinner, which is at 8:00 p.m., we will be able to chat and discuss all kinds of doubts and we will talk about the schedule for breakfast and departure the following day. This schedule varies depending on the time of year and weather.
Day 2: We will leave prepared from the Refuge by the path that will take us to the Canal de la Celada, through which in a short but intense ascent we will skirt the entire north face of Picu Urriellu. After finishing the channel we will continue ascending by a more comfortable path below the imposing east face of the Naranjo de Bulnes. The climb normally takes about four hours. After the climb and after leaving the south amphitheater, we still have to go up the short rope channel that takes us to the summit ridge and from here to the summit. Once at the summit we have time to eat something to eat, take some pictures and chat. Afterwards, we will begin our descent towards the rappels of the southern amphitheater. We will make three rappels and arrive at the base where we will pick up and begin the descent to the Vega de Urriellu Shelter by the same route we took on the way out. Normally between 14:00 and 16:00 we are back at the shelter.