San Glorio – Collado Llesva pass
Snowshoeing in Picos de Europa
This beautiful snowshoeing route will delight us with breathtaking views over the valley of Liébana, the three massifs of the spectacular Picos de Europa and the wild and grandiose Cantabrian Mountains.
This is a low difficulty route suitable for children from 10 years old, in which we will enjoy a wonderful day in snowshoes and in which we will be able to observe unprecedented views throughout its route.
Although it is a simple route, it is an environment of great scenic beauty that runs along a provincial divide between León and Cantabria, which gives us a 360º panoramic view that will not leave us indifferent.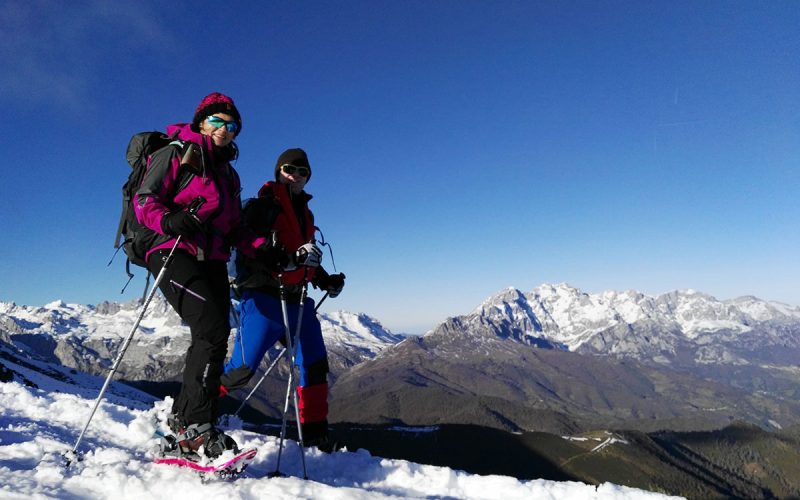 Starting point: Puerto San Glorio ( National 621 Potes-Riaño Leon)
Positive elevation gain: 350 meters.
Difficulty: Low.
Duration of the complete activity: About 3 to 4 hours total.
Previous experience is not necessary to do this route, although a minimum level of physical condition is recommended.
Equipment needed per participant: The guide will send a list of equipment needed per participant depending on weather conditions.
High winter boots with Goretex or similar.
High technical winter socks.
Winter technical mountain pants.
Technical long sleeve thermal T-shirt.
Soft sell or Primalofth type jacket or fleece.
Goretex type waterproof jacket.
Cap.
Fat winter gloves.
Medium or thin winter gloves.
Approved sunglasses (cat 3).
High protection sunscreen (SPF50).
Lip balm.
Backpack minimum 30L.
Water bottle or thermos minimum 1L.
Food (sandwiches, dried fruits, bars, chocolate bars, etc.).
We leave the Puerto de San Glorio already equipped by a gentle slope to reach the Collado de Llesva where there are stunning views of the three massifs of the Picos de Europa N.P. and much of the Cantabrian Mountains. At this point the guide will explain the environment and the impressive peaks that surround us, we can also take some pictures next to the Bear carved in stone that presides over a small hill next to the pass of Llesva.
At this point we continue westward along a beautiful hill until we reach the Peña Gustal, a modest but beautiful summit where we can continue to observe the spectacle of views around us.
Then we will take the way back by the same place we climbed up to the parking lot.