Circular Lagos de Lloroza
Snowshoeing in Picos de Europa
This is a route of very low difficulty suitable for children and for people who want to take a nice walk without worries and without physical demands in the spectacular surroundings of the central massif of the Picos de Europa, specifically in the area of Fuente De.
The Lloroza lakes are beautiful all year round and even more so in winter.
Surrounded by dizzying vertical and seemingly inaccessible walls of more than 2,500 meters high as Peña Vieja, Horcados Rojos, Tesorero, Peña Olvidada and a long etc, we will enjoy a nice, easy and aesthetic walk through the snow in one of the most beautiful places of the National Park of Picos De Europa.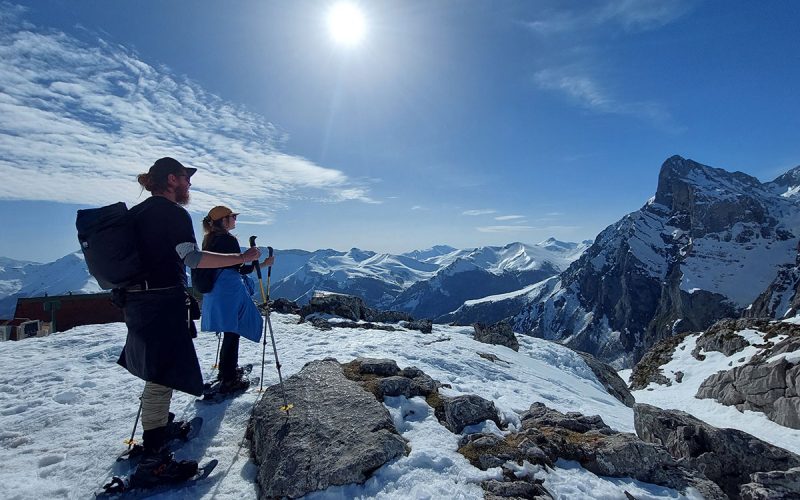 Departure point: Top station of the Fuente De cable car.
Positive elevation gain: About 70 meters maximum.
Difficulty: Low.
Duration of the complete activity: Approximately 3 hours.
Activity suitable for children from 10 years old.
To do this route it is not necessary to have experience or to do sports regularly, but a minimum of physical condition is recommended.
Material required per participant:
High winter boots with Goretex or similar.
High technical winter socks.
Winter technical mountain pants.
Technical long sleeve thermal T-shirt.
Soft sell or Primalofth type jacket or fleece.
Goretex type waterproof jacket.
Cap.
Fat winter gloves.
Medium or thin winter gloves.
Approved sunglasses (cat 3).
High protection sunscreen (SPF50).
Lip balm.
Backpack minimum 30L.
Water bottle or thermos minimum 1L.
Food (sandwiches, dried fruits, bars, chocolate bars, etc.).
The meeting will take place in the parking lot of the lower station of the Fuente De cable car, the schedule will depend on the time of the year and will be subject to the fixed schedules of the cable car. (The guide, once the reservation has been made, will inform the participant of the schedule, how to make the cable car reservation in advance and will provide the location of the meeting point).
Once introduced to the guide, he will provide the necessary material and a previous review and preparation of all the material will be done. Already equipped and ready, we will take the cable car cabin that will take us on a journey of about 4 minutes only to the upper station, saving a drop of 753 meters, and that will place us at an altitude of 1,823 meters at a speed of 10 m/s.
After some basic notions of progression we will begin to walk through the snow towards the lakes of Lloroza, the guide will inform and give explanations about the environment and the different summits that will be in our sight.
When we reach the lake area we will look for a nice and quiet place where we can have a snack and at the same time there will be time to have fun on a steep slope. Afterwards, we will return to the cable car and take a different and easy route similar to the one we took on our way out.