Climbing Rabadá route – Navarro al Picu Urriellu
West Face – Guided Climbing
Pioneer route on the West face, opened on August 21, 1962 by Alberto Rabadá and Ernesto Navarro.
It is a masterful itinerary of about 750 meters of climbing with magnificent rock and impressive environment. Urriellu's longest route and the classic par excellence on the west face.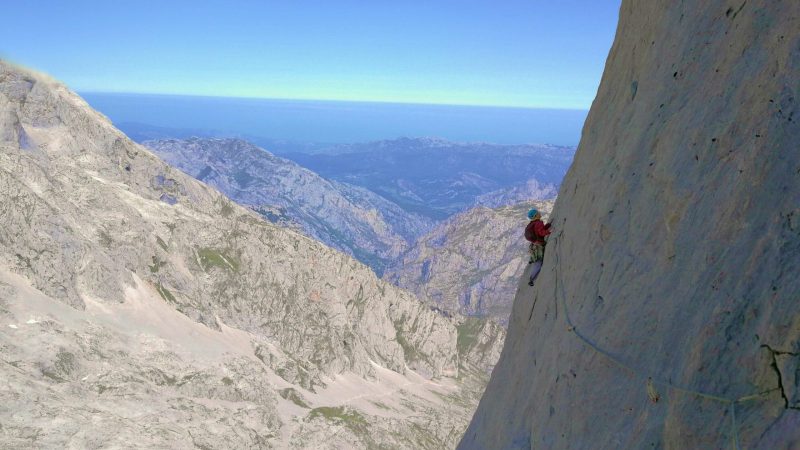 Approximation: from the refuge of the Urriellu valley to the foot of the trail, approximately 30 minutes.
Length of the climb: approximately 750 meters.
Difficulty: 6c (6a) required.
Duration of the complete activity: between 8 and 10 hours.
Descent: rappels on the south.
Experience in classic climbing is required, as well as being able to do 6C routes in sport climbing as a first ropper with fluency.
Have done high mountain routes of more than 8 hours of duration and 1500 meters of positive difference in altitude. It is also recommended to have done some classic climbs in Picos de Europa such as: Mar de Sueños to Agero, Rojo Libanes to Horcados rojos, Reino de León to Peña Santa, etc...
Equipment required per participant: (Depending on the time of year and weather conditions this information may vary in number and type of clothing and footwear. The guide will inform upon reservation)
Technical trekking boots
Trekking poles
Long elastic mountain pants
Technical short sleeve mountain t-shirt
Technical long sleeve mountain t-shirt
Softshell / primaloft
Down or fiber jacket
Cap
Sunglasses
Medium or light gloves (optional)
Cell phone with charged battery
Headlamp with batteries (important)
Solarcream SPF 50
Mountain backpack 40L
Canteen or water bottle minimum 2L
Refreshments during activity (bars, dried fruits, etc.)
First day:
Normally the meeting is at the Vega de Urriellu Refuge the day before the activity, around 7 pm. Once introduced, the guide will provide the participant with the necessary material, explain concepts and review the material needed for the activity. During dinner, which is at 8:00 p.m., we will be able to chat and discuss all kinds of doubts and we will talk about the schedule for breakfast and departure the following day.
This schedule varies depending on the time of year and the weather.
Second day:
We will leave from the shelter to the foot of the west face, about 20 minutes approximately.
When we arrive at the foot of the route, we will equip ourselves and review the safety and progression instructions.
Normally the climb takes about 8 to 10 hours.
Once at the summit we have time to eat something to eat, take some pictures and chat.
Afterwards, we will begin the descent along the ridge until we reach the channel that after a few easy descents will lead us to the amphitheater of the south face where we will begin the rappels. We will make three rappels and arrive at the base where we will pick up and begin the descent to the Vega by the same route we took on the way down.
Normally between 17:00 hours and 19:00 hours you are back at the refuge.