Cabañes Climbing Sketches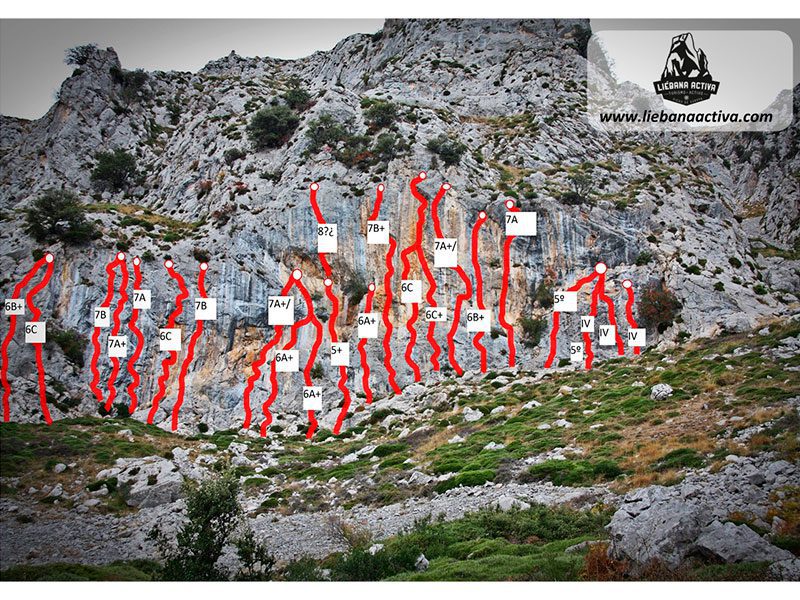 The "Pelea" sector is located at the foot of the Eastern Massif of the Picos de Europa National Park.
Its orientation (SE) allows climbing both in the shade, during the hot summer afternoons, and in the sun in winter.
It has a very good quality rock, besides having a variety of routes of different levels of difficulty.
From grade IV to 7b+/7c, we have a wide range of 24 climbing routes. We will also find a comfortable footpath and an easy access of about 15 minutes of approach from the village.
To access the sector we will advance in a straight line from the parking lot, entering between the houses. Soon we will see that the road splits in two; we continue along the concrete ramp on the left. We climb for about five more minutes and negotiate a Canadian pass.
Just after, we will see on the left a path that ascends towards the walls, which we always cross through the most marked area, avoiding leaving it. (It goes upwards and not close to the wire fence). We cross a small rocky area and continue along the path that gradually climbs to the foot of the track. Once there we can enjoy excellent views of the mountain in front, "La Ventosa".
The cozy village of Cabañes has a hostel, which is located at the end of the village and is signposted although you can't get lost. This hostel is highly recommended for value for money; it offers (among other things) Wi-fi, swimming pool and library, and pets are allowed. It has a capacity of approximately 54 seats.
For those who have their own van or caravan where to spend the night, the parking lot of Castañar de Pendes (El Habario), which we will see before reaching Cabañes on the right hand side, is perfect. It is a beautiful forest of ancient chestnut trees. There is also a drinking water source.